Bearing in mind the golden sands of the most wonderful beaches on earth, Sand Gold were designed to reflect your glamorous attitude. For the woman brave enough to wear daring colors and textures, whether on vacation, in the club or to highlight a business outfit.
Product Type: Sandals
Composition: Natural leather
Interior/Insole: Leather
Sole: Thunit
Heel: 10 cm
Every design of this collection can be made to order, with any heel height. The original shoe will be adapted to the customer's requirements.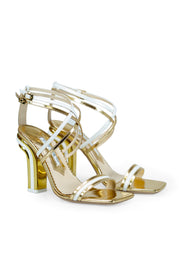 Sand Gold