A cocktail can be enjoyed anywhere, even in a bay, surrounded by blue waters. Bay Cocktail is a shoe easy to integrate into any outfit, which you can wear wherever you are during summer, when all that matters is feeling free.
Product Type: Clogs Sandals
Composition: Natural leather
Interior/Insole: Leather
Sole: Thunit
Heel: 5
Every design of this collection can be made to order, with any heel height. The original shoe will be adapted to the customer's requirements.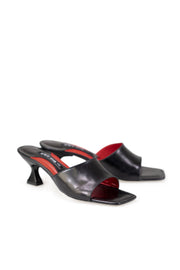 Bay Cocktail