Black Gold is a well-hidden secret among far away sands. Reminding us of power, presence and character, black can be considered gold in almost any outfit, being the go-to option for every outfit, in every season.
Product Type: Clogs Sandals
Composition: Natural leather
Interior/Insole: Leather
Sole: Thunit
Heel: 10
Every design of this collection can be made to order, with any heel height. The original shoe will be adapted to the customer's requirements.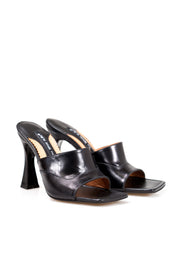 Black Gold