Not at all discreet, but perfectly integrated. Ferm and astute, a woman brave enough to shout "Overruled!" is aware of her position. The ergonomic design allows you to wear this pair for a longer period of time.
Product Type: Sandals
Composition: Natural leather
Interior/Insole: Leather
Sole: Thunit
Heel: 10 cm
Every design of this collection can be made to order, with any heel height. The original shoe will be adapted to the customer's requirements.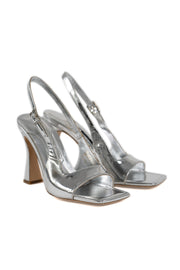 Overruled